A Negro Newsman goes ape and kills two Whites, a reporter and a cameraman. The reports are saying he was a "disgruntled former employee" of the Roanoke, Virginia, TV station. Of course, the Apefrican claimed that the White reporter was "racist". That is often "justification" for the rampant Negro violence against Whites. But aren't all apes "racist"? We would guess that she probably only refused to sleep with the beast.

The suspect believed to have shot a reporter and cameraman to death on live television in Virginia was identified as a disgruntled former employee of the station, and he apparently posted video of the shootings to social media.

Federal authorities told NBC News that the suspect killed himself about five hours after the shootings.

A sheriff's department identified him as Vester Lee Flanagan II, 41, also known as Bryce Williams. ABC News said that it received a 23-page fax from someone claiming to be Bryce Williams and turned it over to authorities.

...

The accounts also posted an apparent justification for the shootings, accusing the reporter of having made racist comments and the cameraman of having reported the suspect to human resources.
Click here for the screenshot of the original NBC story.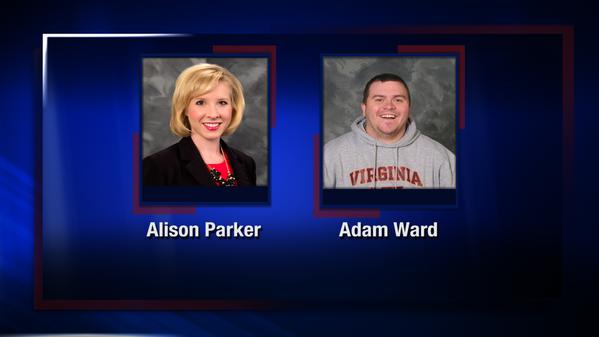 A pair of television journalists at a CBS affiliate in Virginia were shot and killed during a live broadcast Wednesday morning, and authorities said the suspected shooter, a former disgruntled employee at the station, shot himself after being confronted by police on an interstate highway.

The suspected gunman was identified as Vester Flanagan, a 41-year-old former WDBJ-TV reporter who went by the name Bryce Williams on air.

The victims, WDBJ-TV reporter Alison Parker, 24, and Adam Ward, her 27-year-old cameraman, died shortly after the shooting, which occurred at approximately 6:45 a.m. at Bridgewater Plaza in Moneta, Va., near Smith Mountain Lake.

The gunman opened fire as Parker was interviewing Vicky Gardner, the head of the Smith Mountain Lake Chamber of Commerce, live on the air. Gardner was shot in the back and taken to a hospital for surgery. . According to the Roanoke Times, Gardner is listed in stable condition.

 
So it turns out that Vester L. Flanagan II, which is Byrce Williams' real name, claims in suicide notes to have been a disenchanted Sodomite. We would expect to see apes in the news for as long as we have apes. But do apes really belong in our newsrooms as well? Or in any other important place in society? We believe he is a product of the madness of multiculturalism and the Sodom and Gomorrah which are about to go up in flames by the wrath of Yahweh.
See the follow-up report below from WPIX:
Follow-up, August 28th, 2015:
The Vester Flanagan / Byrce Williams case gets stranger as CNN reports that Flanagan had "Gay Porn Sites" registered in his name.