The Daily Mail has just reported something on the Swedish rape crisis in an article titled Two 10-year-old schoolgirls molested and a woman's trousers ripped off: Inside the sleepy Swedish town rocked by EIGHT sex attacks in three weeks by migrant men. But the Swedes keep admitting these sexually aggressive migrants with no concern for the native human population and the preservation of its species.
However the native lobsters have no worries, because the Swedes will appeal for their salvation, and defend them from intrusive and sexually aggressive invaders. The Guardian has just published an article under the title Invasion of the American lobsters: Sweden asks EU for help. Evidentally, lobsters from North American waters are replacing the population of native lobsters off the coasts of Sweden. Here is what it says, in part:
They pose several potential risks for native species, competing for space and resources, they can interbreed with local species and produce hybrid species, which we don't know will be viable or not," said Dr Paul Stebbing of the Centre for Environment, Fisheries and Aquaculture science.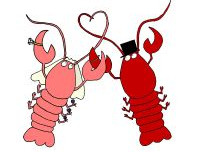 As a friend said while commenting on this article in the Christogenea Forum, it is quite ironic that the language that is used to describe these invasive lobsters seems much more appropriate for the flood of arabs and negros who are their real problem. Of course we must agree. Arabs and negros are sexually aggressive invaders with a disdain for Swedish law and culture, who only seek to supplant the Swedish population with bastards, and create an Islamic desert in the snowy north. The Guardian article continues to speak about lobsters:
Oversexed, overfed and over here: that, in a nutshell, is what the Swedes think of the American lobster from Maine, New England. It may be much sought after in restaurants but Sweden does not want the American crustacean to darken EU waters in case it spreads diseases and kills off its smaller cousin.
So arab invaders can darken Sweden itself... and evidently Swedish lobsters are much more valuable than Swedish women, or future generations of Swedes. But what if some of the Swedish lobsters want the American invaders? The irony amazes us, but the hypocrisy is literally killing Swedes.
William Finck