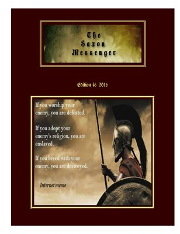 The Saxon Messenger is a somewhat quarterly publication and a project of Christogenea.org. It is freely available here at Christogenea but is also available as a high-quality publication through Magcloud, which is a print-to-order publishing service.


Click here to purchase this issue in print.
all by William Finck
by Arch Stanton with notes by Lasha Darkmoon,
by Dr Phil Edwards,
by Andrew Joyce, Ph.D.,
by Michael Hoffman,
Health and Science, Jewish hypocrisy, and more...